About Shirley Rousseau Murphy
Shirley Rousseau Murphy grew up in southern California, riding and showing the horses her father trained. She attended the San Francisco Art institute, and later worked as an interior designer while her husband Pat, a World War II veteran, attended college. When he graduated she quit her job and began to exhibit paintings and welded metal sculpture in the West Coast juried shows. Her work could also be seen in many traveling shows in the western States and Mexico.

"When we moved to Panama for a four-year tour in Pat's position with the U. S . Courts, I put away the paints and welding torches, and began to write," she says. After leaving Panama, they lived in Oregon, Atlanta, and northern Georgia. During that time she wrote over twenty books for children and young adults, winning five Dixie Council of Authors and Journalists awards, plus The Catswold Portal, an adult fantasy novel.

| | |
| --- | --- |
| See a complete phone-friendly list of all the adult, YA, and children's books by Shirley Rousseau Murphy. | Murphy now lives in Carmel, California, to which she and her husband moved when he retired as Chief U.S. Probation Officer for the Northern District of Georgia. Since then she has published nineteen books in the award-winning Joe Grey cat mystery series, for which she is best known. In addition, she and her husband Pat J. J. Murphy collaborated on the recently-published duology The Cat, the Devil and Lee Fontana and its sequel, which is related to the Joe Grey series but quite different from it. |
Cats have been an important part of Shirley's life. "My family always had cats," she says. "At the stables where I spent most of my childhood, cats were my playmates along with the dogs and horses and a billygoat. And at home, our tomcat, Skipper, ruled; he played hide-and-seek with my mother, leaping out at her from the hall closet--but he didn't like her to do the leaping, that hurt his feelings. And he didn't like mirrors. Once when a house guest laughed at him for growling into a mirror, Skipper jumped onto her lap, drew back his paw, and slapped her hard in the face. This is the same cat who brought his lady-love home for dinner every night while she was pregnant, then helped take care of the kittens.

"At the stables we had Peggy, a gray shorthair who, walking atop the pasture fence, would step onto the back of the gentlest old gelding and take a little ride.

"Peggy would run beside my father when he went to irrigate the pastures. Wading hip-deep in water, she watched for the first rabbit to escape from its burrow--but not from her swift claws. Catching it, she would drag it across the flooded pasture to her kittens, to teach them about wild game and about the finer points of hunting.

"When my husband was a young probation officer, in San Bernardino, he was often gone for several days. We had two black cats then, and on a summer midnight I woke to see Scrappy pacing in the open window, growling like a little panther. Peering out, I saw a man standing in the bushes--he could have stepped right through the window. I was young, and frightened. I phoned my neighbor, he called the police, and they caught the prowler. Several years later, when we lived in Panama, again I woke at night to Scrappy's growling from the open window. I looked down, from the second floor this time, to see a man slipping through the yard. But when I called the cops, they laughed. 'It's okay,' they said, 'he's one of ours.' But how was Scrappy to know the guy was an undercover officer? A prowler is a prowler, and my little watchcat got double rations the next morning.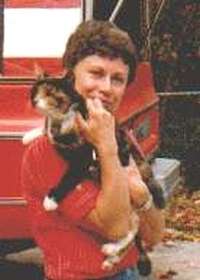 Mousse, the inspiration for
Melissa in The Catswold Portal.

"Our most recent cats came to us when we lived in Georgia. Among them was the original Joe Grey, whose picture you can see on the FAQ page at my Joe Grey website, and Mousse, who inspired Melissa in The Catswold Portal. After Mousse came Lucy, and then ELT.

"Lucy was two years old when we got her from our local volunteer rescue in Georgia. They had trapped her and had found her litter of kittens. They caged her with her litter, and found homes for the babies. When we took her, she weighed four pounds, just a handful of scruffy fur over bones; she had spent all her strength hunting, to keep herself and her kits alive. You could feel every vertebra, every rib. But before long she was eight pounds of silky purring loveliness, And still, every spring, she again became preoccupied and agitated, needing to hunt, needing to provide for the kittens that were still there in some secret pocket of her memory.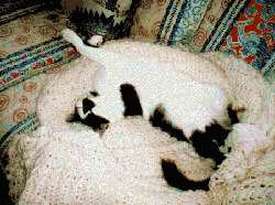 Lucy

"My tortoiseshell cat ELT was less than a year old when my pilot husband found her at our small local airport: The field was deserted, the November night windy and cold. She was tiny, thin and LOUD, demanding to be fed and cared for. ELT means Emergency Locator Transmitter--the electronic device that emits a loud radio message if your plane has crashed, if you're in trouble. That night she definitely was in trouble, abandoned on a huge, cold airfield hungry and afraid. My husband must have been the first human she saw after she was dumped, or the first who paid any attention to her. Like an efficient ELT, she broadcast her distress signal; her yowls let him know exactly what she needed.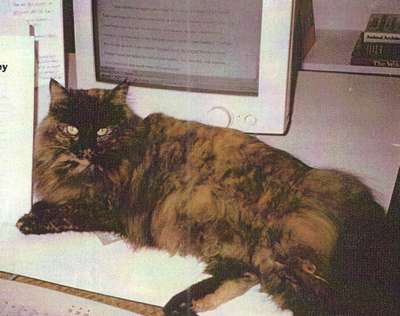 ELT, the inspiration for Kit
in the Joe Grey series


"When he brought her home, she took over our house, bullying shy Lucy, storming up the bookcases like she was going to the moon, walking on the overhead beams, totally trashing my desk, destroying whatever efficiency I'd managed. More than one finished manuscript went to HarperCollins with claw marks and muddy pawprints on the pages. She loved to chase a flock of full-grown Canadian geese into the lake. She would race into the water up to her belly, stand watching them flap away through the water honking and scolding, and would return to the house wet and muddy, hugely pleased with herself.

"To imagine our lives without cats stirs such an empty feeling. To imagine our human world without any animals at all, is, for me, to imagine a vast and empty void sterile in the extreme. No bird, no beast. No warm fur to stroke, no mute friend who is yet so eloquent, no eye of another species in which to gaze and speculate, no wondrous and tentative communication with one who is not like us. To be surrounded only with other humans--who are often very dull--to encounter no other form of intelligence or joyfulness or wit, seems to me unthinkably tedious."